JI.HLAVA NEW VISIONS 2021
Ji.hlava IDFF announces an open call for the JI.HLAVA NEW VISIONS 2021 – a financing, co-production and networking event dedicated to supporting European documentary production in its diversity and creativity.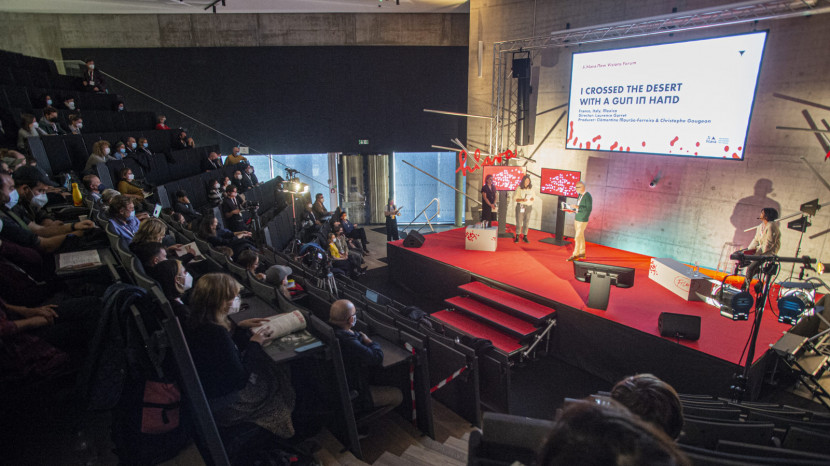 At the core of the JI.HLAVA NEW VISIONS 2021 Forum will be pitching of 20 European documentary projects – 10 in the development stage and 10 in production and post-production stages. The event will take place on October 28–29, 2021 in Jihlava, Czech Republic during the 25th Ji.hlava IDFF and will be attended by stakeholders accredited at the festival. The presentation will be available both in person and online.
Selection criteria:
Each producer can submit up to 3 projects. We welcome not only documentary films but also diverse audiovisual formats such as fiction with documentary aspects, hybrid, experimental, short films, docu and web series, cinema expanded projects, games with documentary aspects and VR / AR / Live documentaries.
In our selection process, we focus on the artistic vision of the project, its originality and author-driven character, visual style and fresh spirit, international potential in terms of financing and development of collaboration, openness for sharing the project with other partners, as well as diverse modes of distribution.
Eligible countries:
EU Member states (Austria, Belgium, Bulgaria, Croatia, Cyprus, Czech Republic, Denmark, Estonia, Finland, France, Germany, Greece, Hungary, Ireland, Italy, Latvia, Lithuania, Luxembourg, Malta, Netherlands, Poland, Portugal, Romania, Slovakia, Slovenia, Spain, and Sweden)
Switzerland, Iceland, UK, Liechtenstein, Norway
countries of Western Balkans (Albania, Bosnia and Herzegovina, North Macedonia, Kosovo, Montenegro, Serbia)
Eastern Partnership countries (Armenia, Azerbaijan, Belarus, Georgia, Moldova, Ukraine) and Russia
Dates:
Thursday, October 28, 2021
15.00–17.00 Pitchings of 10 selected projects in development stage
Friday, October 29, 2021
15.00–17.00 Pitchings of 10 selected projects in production and post-production stage
Format:
Selected projects will be presented by the director-producer pair along with a preview of the upcoming film. The presenters will be provided industry accreditations for the 25th Jihlava IDFF and will be invited to join the festival's Matchmaking Accelerator featuring several hundred accredited film professionals – festival representatives, curators, distributors, sales agents, commissioning editors and journalists from across the world.
The JI.HLAVA NEW VISIONS 2021 Forum will be accompanied with an online JI.HLAVA NEW VISIONS 2021 Market (October 27–30, 2021). The projects for the Market will also be selected from the received submissions and these projects will also have an opportunity to take part in the Ji.hlava Matchmaking Accelerator.